Quick M.2 NVMe drives are becoming available, and if still 3-4 years ago on the prices of high-speed NVMe 500 GB became ill, but now some of them can snatch a little for the amount used
of
greater than asking for the top line with SSD SATA interface.
The speeds of such discs also grow.
After the release of new platforms from Intel and AMD, which now support PCIe version 4.0, writing and reading over 3.5 GB / s per second is gradually becoming not something phenomenal, but quite commonplace.
For this reason, we decided to test a pair of
Western Digital
SSDs
: a relatively inexpensive
SN550 of
the Blue series for 1 TB and with a PCIe 3.0 x4 interface, as well as the top-end
SN850 of
the Black series - of the same size, but already for PCIe 4.0 x4.
Western Digital Black SN850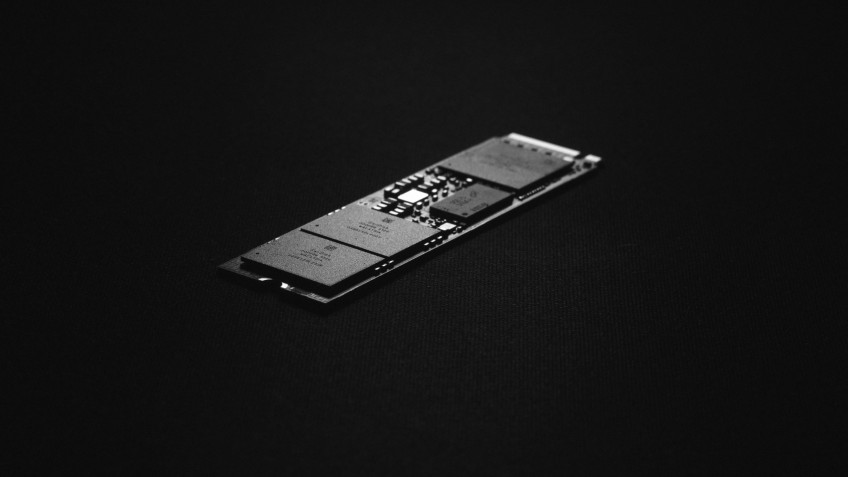 Let's start with the older model.
It looks solid: a black printed circuit board with matte varnishing in the M.2 2280 form factor. The entire 1 TB volume is filled with two memory chips, both of which are located on the front side of the device.
It should be noted that the disc comes in two versions: with and without a heatsink.
In our case, this is the "no" option, so during the tests, the standard heatsink of the
ASUS ROG Strix B550-E Gaming
motherboard was responsible for removing heat from the controller and memory chips
.
As for testing the disk without cooling at all, we didn't do that.
Firstly, drives of this level and at this price (from 19,500 rubles at the time of publication) imply installation in systems of a certain level, which means that the motherboard will most likely provide cooling for M.2 devices.
And secondly, as tests have shown, the disk heats up too much to drive it without radiators.
Now about the disk device.
At the heart of the SN850 is the
SanDisk
controller
.
Most likely, this is a redesigned version of the older
Western Digital SN750 model
, but more productive and tailored to work with PCIe 4.0.
In addition, WD claims that several changes have been made to the algorithms aimed at optimizing work with shallow query depths: these are the ones that the average user deals with most often.
The technical process has also changed: if the SN750 controller was built at 28 nm, then in the SN850 it was transferred to 16 nm.
Between the memory and the controller, WD put a
Micron
DRAM buffer
, and the memory array itself was
loaded
with two
BiCS4 TLC 3D NAND chips
with a 96-layer structure from Western Digital and
Kioxia
.
Slightly less than the current leaders with their 128 layers, but this slight lag should be compensated for by the low latency.
Note that the 500 GB and 1 TB versions of the SN850 use 256 Gb crystals, and the 2 TB models use 512 Gbps.
Therefore, as usual, the most modest speed indicators should be expected from the 500 GB model due to the lower interleaving rate.
Tests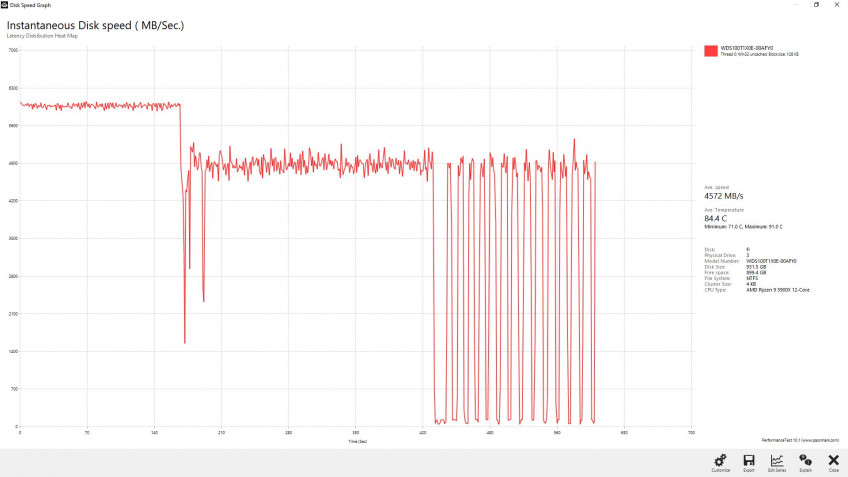 Let's move on to the tests - and start with the temperature regime of the drive.
In short, it is hot and a radiator is strictly necessary for it.
Our memory chips easily reached 91 ° C, and the controller just flew over a hundred.
In this case, the heating itself took place in two stages.
At first, the temperature reached 85 degrees, and a little throttling process started, which led to a loss of about 500 MB / s.
This is not much, but after some time the sensors crossed the 90 ° C mark - and here the speed dropped much more seriously.
Here, however, it is worth noting that we are talking about stress tests in
PassMark Performance Test
, namely in Advanced Disk Test: 70% read, 30% write-in mixed mode, random data, random order, block size - 128 KB, volume file - 32 GB.
With a high degree of probability, you will never create such a load at home.
But, one way or another, without proper cooling, the SN850 will not show its potential, and it is unlikely to have a place in a laptop.
As for the temperature in normal modes, it is high, but not terrible, and most importantly, it does not affect performance.
Linear recording of the file, which took up the entire volume of the SSD, warmed up the disk to only 76 ° C.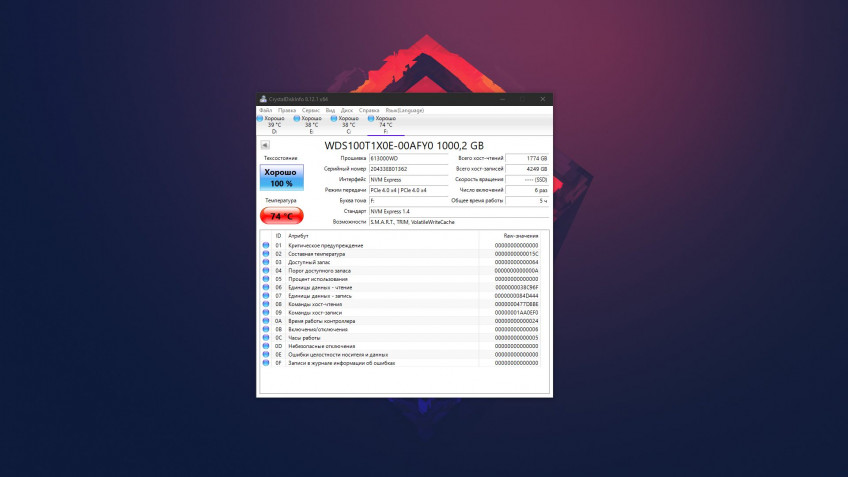 Synthetics
As for the speed tests, the results are as follows.
In
Crystal Disk Benchmark, the
SN850 achieves outstanding results, reaching 7 GB / sec read and 5.2 GB / sec write.
Compliance with the declared characteristics is complete, and the numbers, I must say, are very impressive.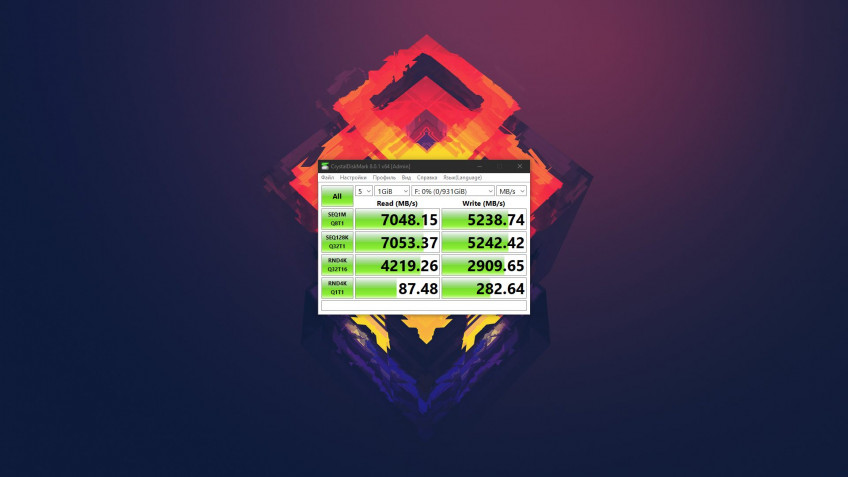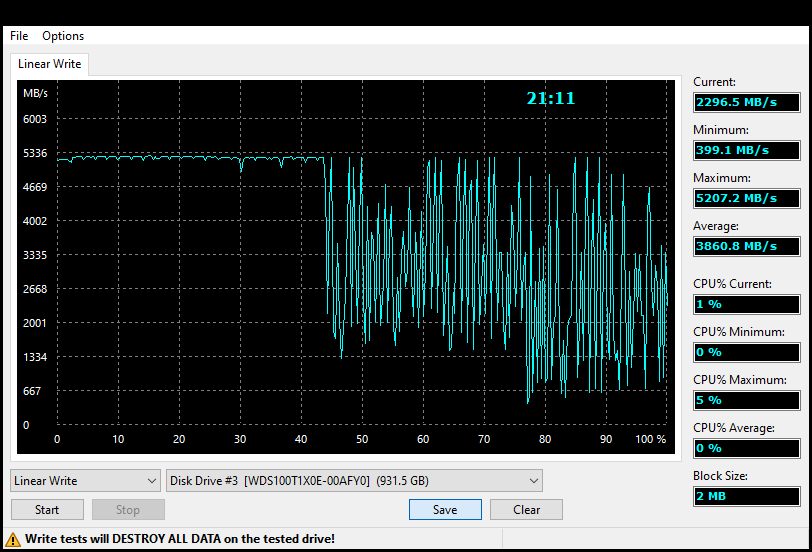 Moreover, this speed is achievable not only in short benchmarks.
The disk has a huge SLC cache.
In
Aida64
and its built-in linear write test, about 40% of a 1TB file was flooded to the SSD at 5.2GB / sec - and this, for a minute, is its peak performance.
After this limit, the SN850 switched to TLC mode, dropping the bar to an average value of 2.5 GB / s, and only at the very end dropped even lower to a minimum of 660 MB / s.
This means that the WD Black SN850's vocation is to drag big files back and forth.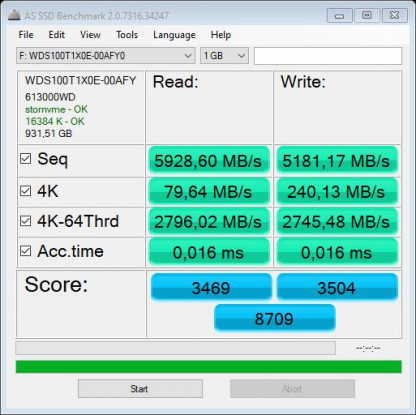 AS SSD: speed performance
AS SSD: emulation of running games and programs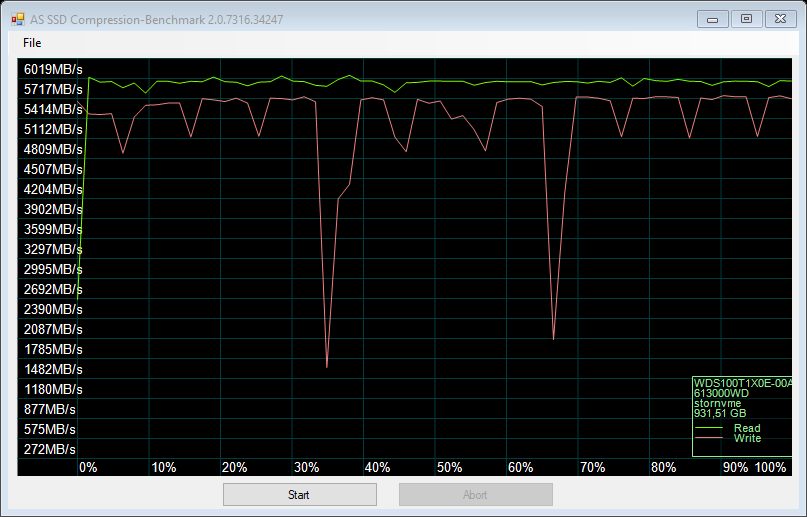 AS SSD: emulate archiving tasks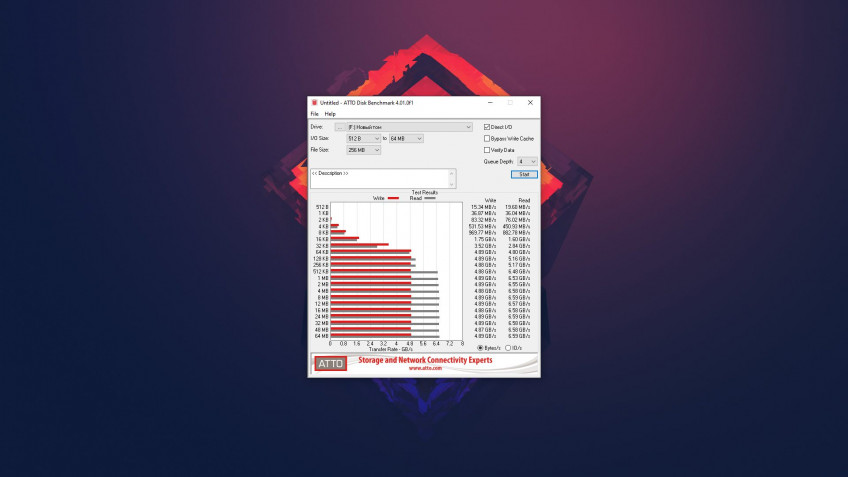 Result in the ATTO benchmark
The disc showed itself normally in more difficult conditions.
Through
PassMark,
we tried to create the most rigid and even somewhat unrealistic loads to find out the minimum performance bar when writing and reading a 1 GB file.
To do this, we used 4 KB blocks, 100% random writing, and reading 100% random data with enabled and disabled caching.
The depths of the queues were chosen from one to four, as the most demanded in desktop PCs.
Testing took about an hour, the drive warmed up to 57 degrees, and the results were slightly different from those we got in frank synthetics a la
Crystal Disk Mark
.
Bottom line: SSD is still fast even in the most mocking use cases, but, again, its strong point is working with "heavy" files.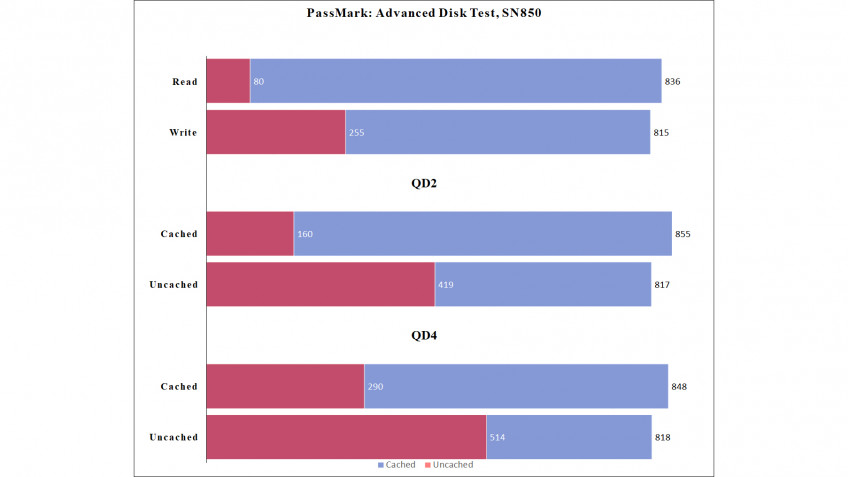 Western Digital Blue SN550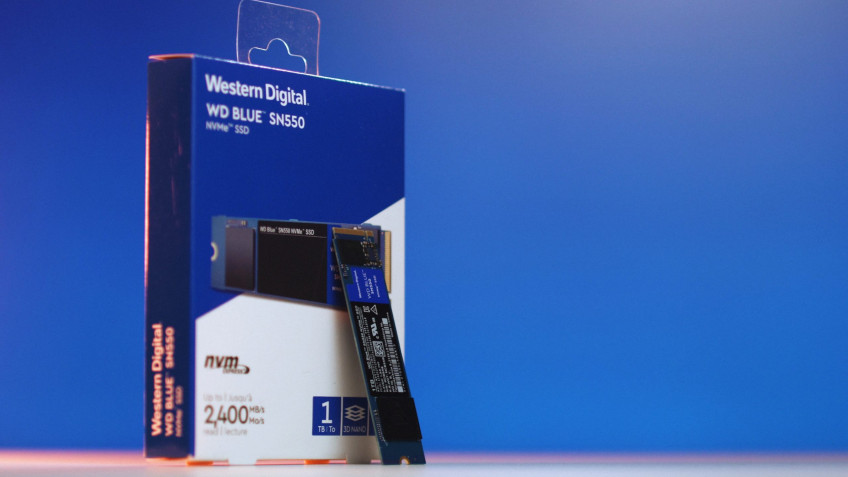 Let's move on to a simpler model.
SN550 is interesting primarily due to its price: at the time of publication it can be purchased for 9600 rubles, and this is how much top-end SATA drives of the same volume now cost.
But no matter how expensive they are, it is physically impossible for them to circumvent the restrictions in the region of 500 with a small MB / s for writing and reading from the side of the SATA interface.
Here we are dealing with PCIe 3.0, and these are completely different speeds.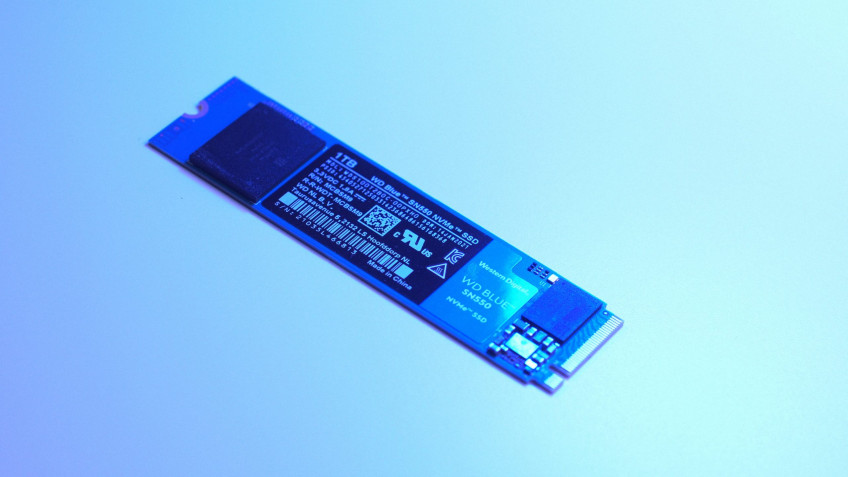 SN550 is assembled on a blue M.2 2280 board, which is quite logical because this is the Blue series.
The memory is the same: 96-layer BiSC4 with 512 Gbit crystals.
The previous
SN500
line
used a 64-layer BiSC3.
The controller is also new:
SanDisk 20-82-01008
, and it replaces
SanDisk 20-82-007010
.
The difference is that it works with four PCIe lanes instead of two.
There is no DRAM buffer on the disk body.
Tests
We heated this disc using the same method as the older model.
And the very first tests showed that the SN550 is much colder and can work without a radiator, without rising above 79 ° C.
However, if there is already cooling on the motherboard, then it is better to use it: the temperature is still high, and for the health of the memory and controller it is better to keep it lower.
In terms of speed characteristics, the alignment is as follows.
The very first test in Aida64 shows the fundamental differences between the disks.
The younger SN550 practically does not use SLC caching - it almost immediately switches to TLC mode and drops the speed to 1138 MB / s.
However, this is still twice the peak performance of any SATA drive for the same price.
Interesting results in Crystal Disk Benchmark.
Peak linear write speeds with high queue depths are not the most impressive, but the drive is very fast in working with small blocks and even outperforms our
Samsung 970 EVO +
in this parameter
.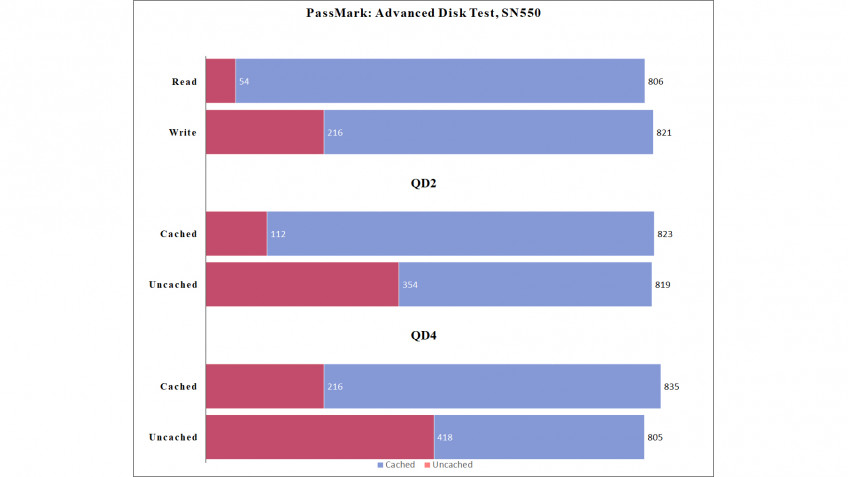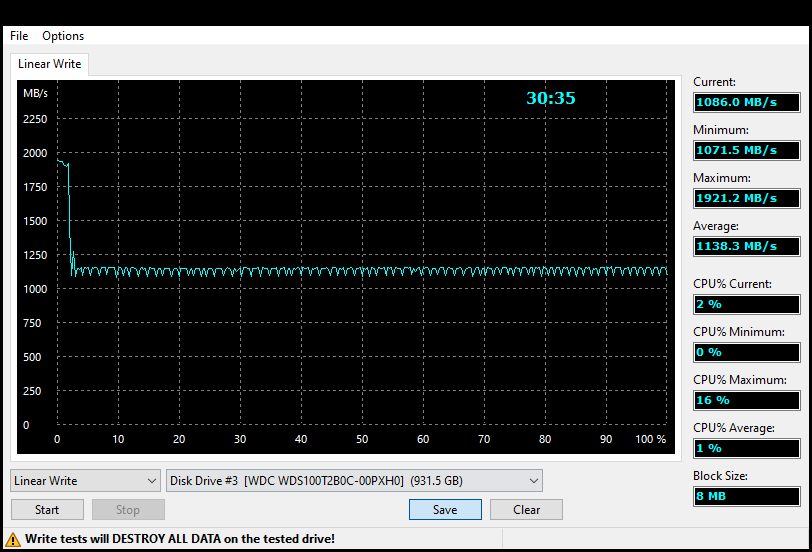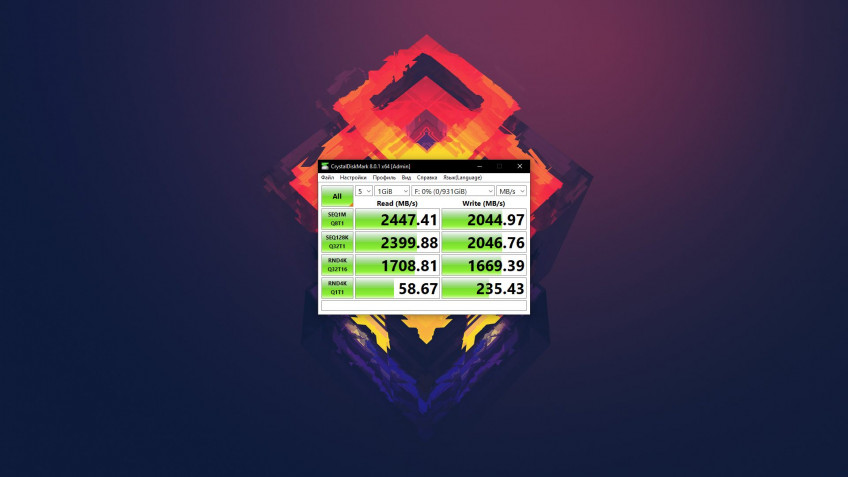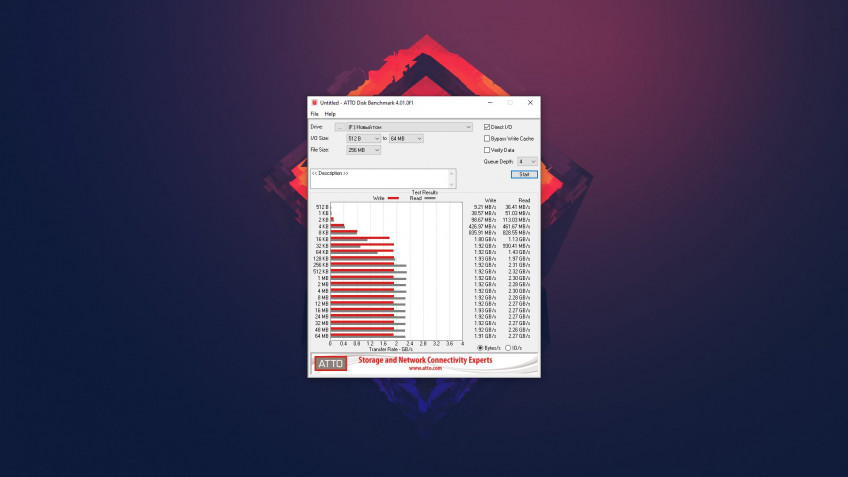 AS SSD: speed performance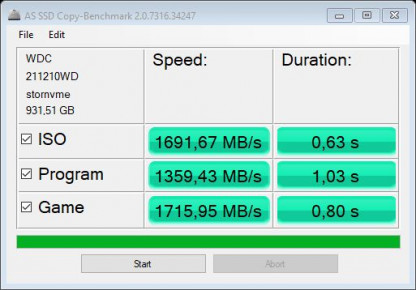 AS SSD: emulation of running games and programs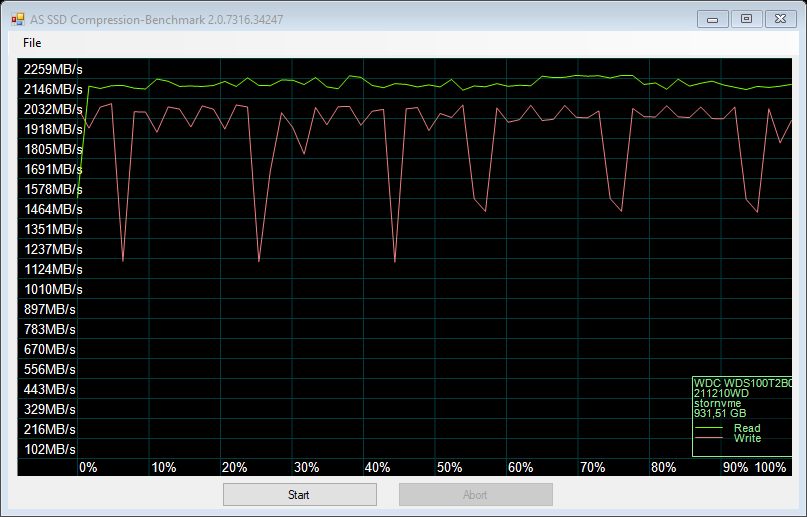 AS SSD: emulate archiving tasks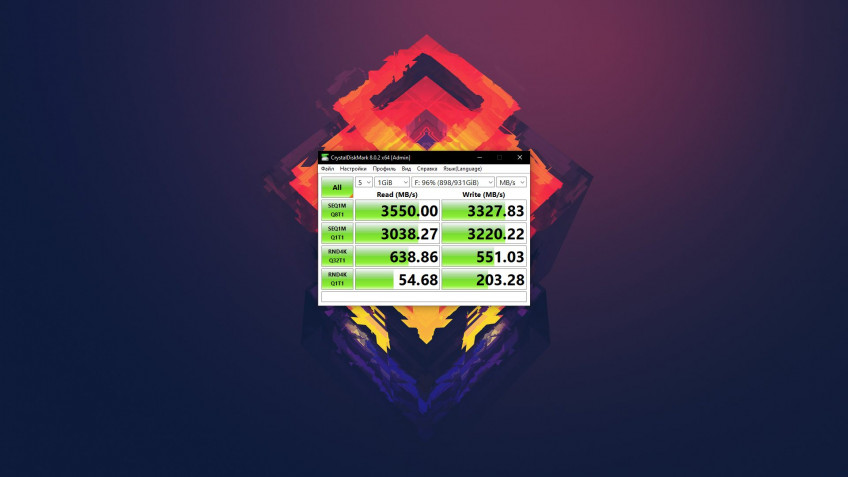 Samsung 970 Evo Plus 1 TB
Results and conclusions
In the end, it turns out that both discs are decent, but each has its own pros and cons.
The WD Black SN850 is fast and can even be used as an example for the upcoming innovations in the NVMe SSD market.
At the same time, they ask for amounts absolutely sane for such indicators, and it will cost even cheaper than some slower competitors.
Of the shortcomings, only very high heating can be noted.
Who should focus on this model?
In our opinion, content makers.
For example, videographers working with files in 4K resolution.
Thanks to the giant cache, loading media into conditional
Adobe Premiere
is a pleasure.
But work with small files, although also at the level, but in real conditions will not give a significant gain in the speed of launching games.
Therefore, you can, of course, consider a disk as a volume for storing the Steam library, but there is little sense in this.
As for the WD Blue SN550, it is good for its price-performance ratio and comfortable temperature conditions.
The recommendations, in this case, are exactly the opposite: the drive does not have enough stars from the sky in terms of working with large files, but it shows itself perfectly with smaller ones.
So it's not worth taking it to work with media, but as storage for games or a system disk, it looks great.
Well, yes: after the appearance of such a proposal from WD, it makes no sense to consider expensive SATA drives anymore.
Either we take the cheapest one and use it as a "file cleaner" (it's funny to say this about SSD), or buy a WD Blue SN550: we spend the same amount, but the speed is 4.5 times higher.
Test stand
Processor:
AMD Ryzen 9 5900X (12 cores, 24 threads, 4.9 GHz on all cores)
RAM:
2x 8 GB DDR4-3800 MHz 14-15-14-14-28 CR1 (FCLK 1900 MHz)
Motherboard:
ASUS ROG STRIX B550-E Gaming
Graphics Card:
EVGA GeForce RTX 2080 Super
Specifications WD Black SN850 :
Capacity:
1 TB
Interface
: PCIe Gen.
4 x4
Slot:
M.2 2280
Sequential read speed:
7 GB / sec
Sequential write speed:
5.3 GB / sec
Specifications WD Blue SN550 :
Capacity
: 1 TB
Interface:
PCIe Gen3 x4
Connector:
M.2 2280
Sequential Read Speed:
2.4 GB / sec
Sequential Write Speed:
1.95 GB / sec