It is not so difficult to buy an inexpensive monitor for gaming today.
I decided about the diagonal, resolution, and frequency, opened Yandex. Market - and order.
It is much more difficult when the matrix speed, lack of ghosting, high-quality stand, normal materials, comfortable long-term work,
Premiere
,
Photoshop
, films, serials
are added to a simple query "for games"
.
And here it is not only not cheap not to get away with it: you will have to read the reviews and sort out the characteristics.
Today we will tell you about one of the candidates for the role of "all-in-one": this is the LG 27GN850-B.
For 35,000 rubles, they offer 27 inches, Nano IPS with a resolution of 2560x1440, a frequency of 144 Hz, and theoretical support of 10 bits.
Possible disadvantages: low brightness and weak HDR.
Let's see what happens in practice.
Appearance
The monitor is delivered in a box made of dense, expensive-looking cardboard, inside there are HDMI and DisplayPort cables, as well as a 19 V and 3.42 A power supply unit. adjacent holes.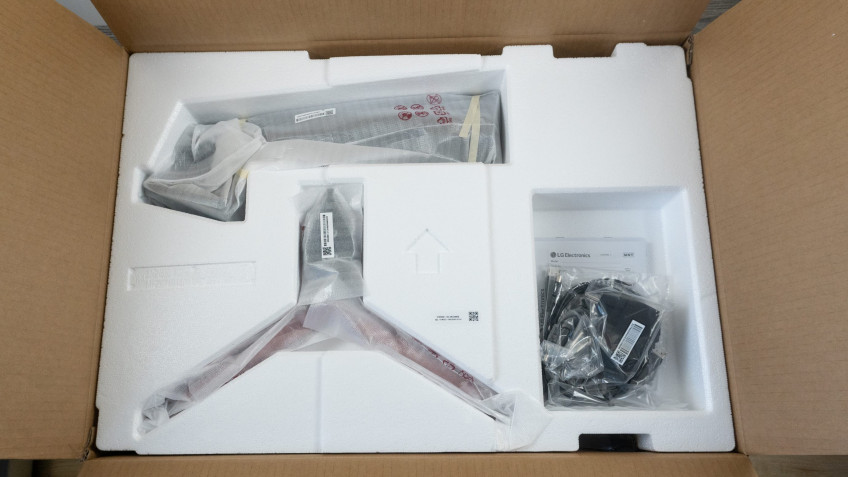 The stand in the box is disassembled.
Unexpectedly, this is traditional boomerang support for top models - although it is large, it takes up very little space on the table - as well as a powerful stand with a hook for cables and adjustments in height and tilt angles along both horizontal axes.
The only thing missing is rotation along the vertical axis, but you can put up with it.
Naturally, if you wish, you can transfer the display to VESA mounts: the size of 10x10 cm is supported without any spacers or adapters.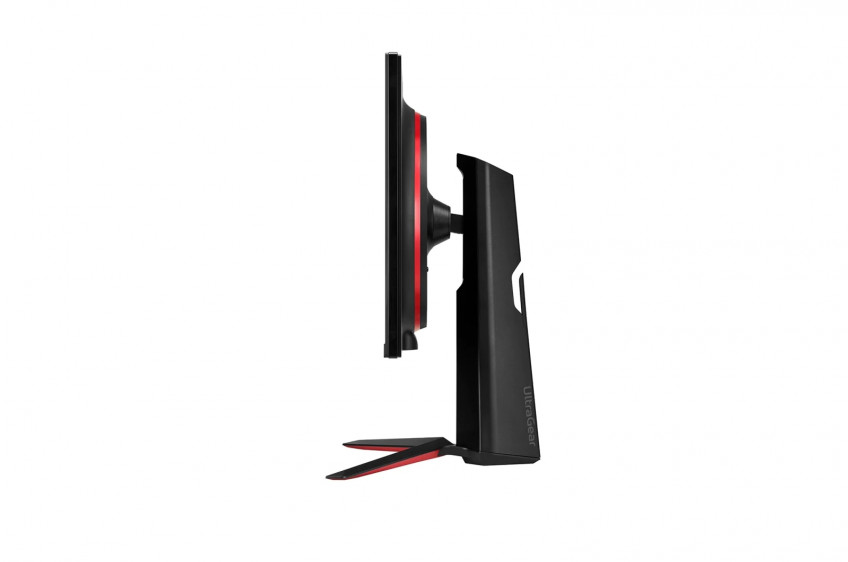 The monitor itself is also a classic for the top from LG.
Front panel - four thin bezels with a non-reflective logo in the center.
The back is a flat surface with a large round bead, into which the backlight is usually built-in in more expensive models.
In terms of materials, everything is also standard: the side frames are made of glossy plastic, the front and rear panels are made of matte, slightly rough to the touch, and slightly soiled.
For some reason, they complain about it in other reviews, but we still do not understand why: plastic is like plastic.
There are no complaints about the build quality.
The body itself is relatively thin, does not bend anywhere, and only creaks slightly when lifted, which, however, does not affect flight characteristics in any way.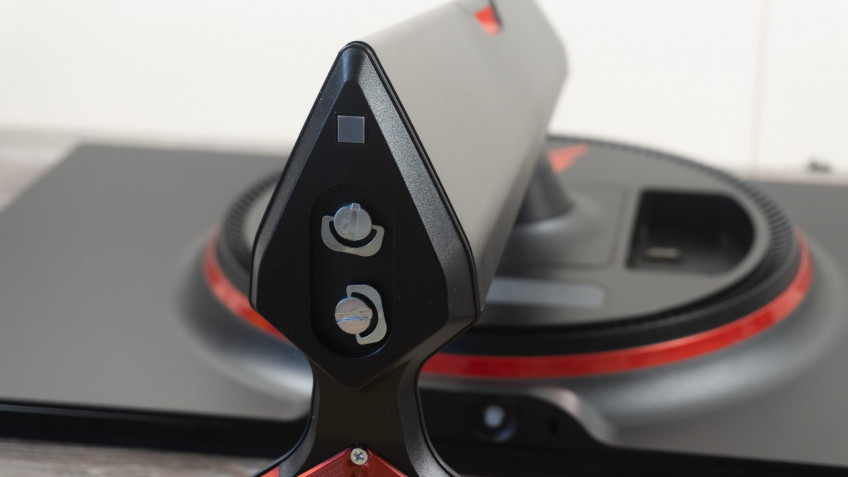 The connectors are conveniently located here: approximately in the center of the panel and parallel to the floor.
The set itself is normal: DisplayPort 1.4, two HDMI 2.0, and a 3.5mm headphone jack.
At the same time, there is no USB - and not only a hub, but also Type-B for working with a computer, so you can forget about the usual settings for LG through Windows.
However, the menu completely overlaps them here.
The controls, as usual, are suspended from the joystick in the center of the lower edge.
The logic of his work is simple.
Pressed - turned on the monitor.
Rejected left / right - change the volume of the built-in DAC.
Forward / Backward - switched to brightness control.
Pressed again - opened the quick menu, in which there is a power-off, selection of sources, switching profiles, and switching to a traditional OSD with all settings.
Everything is also simple and logical there: service parameters, inputs, colors, profiles, and game functions.
The latter are dark zone highlighting, fixed sight, FreeSync / G-sync, and response time with four levels.
The 27GN850 does not have an acceleration option like ULMB (through a black frame) - but, in our opinion, the loss is not great.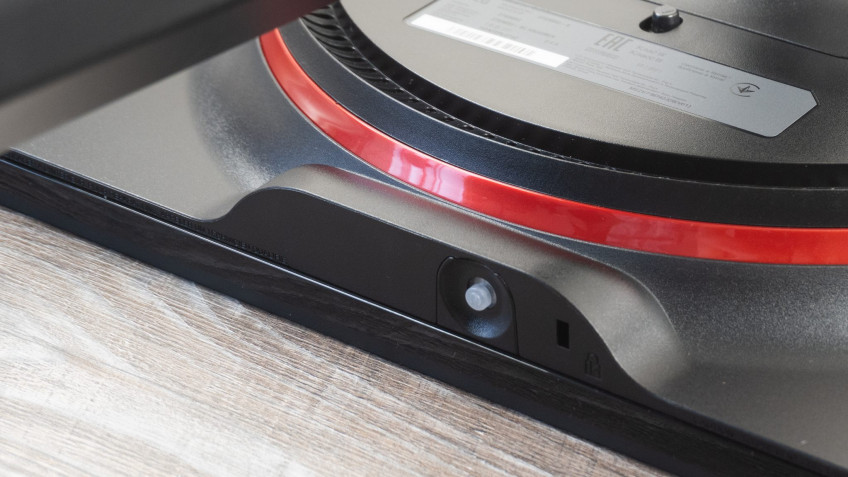 The matrix
Now about the matrix: this is 27 inches with a resolution of 2560x1440 and 144 Hz ideal for it.
Everything is built based on Nano IPS.
Initially, this is an 8-bit panel, but due to the backlight with a red filter, it displays almost 10 bits: 92.9% DCI-P3 and 137.5% sRGB.
And let the color deviations go out of the box for three units, after calibration, they fit into the normal 0.25.
And with such indicators, even go to the designers - unless you work with dark pictures.
Unfortunately, the calibration 120 cd / m
2
dot black rises to very high 0.21 cd / m
2
.
This means that the overall contrast is only 586: 1.
In other words, the matrix is ​​rather weak in dark areas: without raising the brightness, many shades of black are simply not visible.
In games, this, however, is easily corrected: you can either raise the overall brightness, sacrificing color rendition, or turn on the "black stabilizer", which will lighten the dark zones.
By the way, we got the maximum contrast level among the built-in profiles in sRGB mode: 856: 1.
You can safely choose it for games.
As for the rest of the required parameters - Glow and Bleed on a dark background - all this 27GN850 is no stranger to.
Even with a direct view, the monitor on the left has a clearly distinguishable light spot on a black background, and on the right - a yellow one.
On color images, the effect is almost not manifested: to see the changes, one has to stand above the matrix and look at it from above at a rather acute angle.
In life, as a rule, in such positions they do not look at the display: much more often we can lean down, but here the matrix is ​​all right.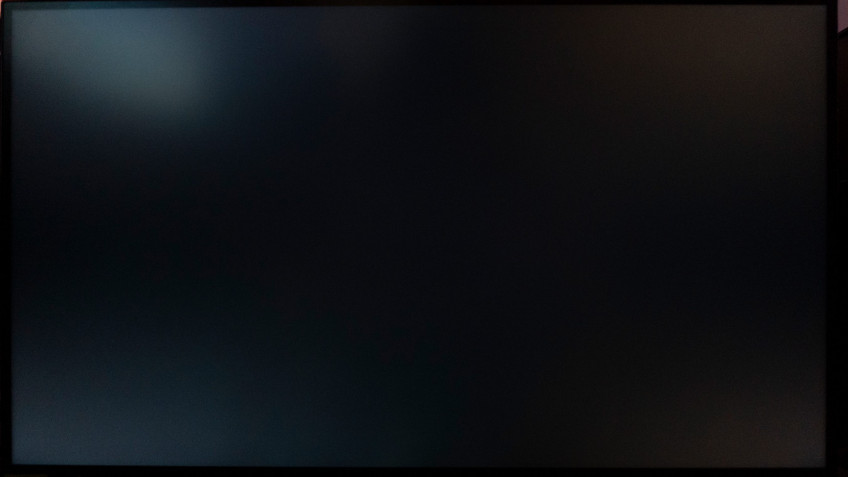 But what surprised the matrix was its high-speed tests: ghosting is minimal, and the MPRT response is 6.4 ms, which is very good for an IPS matrix.
For comparison: on our old IPS on LG 34UC79G, it is about 50% higher, and this is felt in games.
In the same
Warzone,
there is practically no soap on the monitor on sharp turns.
Yes, this is not 240 Hz, but for the 144 the result is commendable.
It is the same with
Escape from Tarkov
: there, of course, 144 frames in QHD are often only dreamed of, but everything is clear and without loops.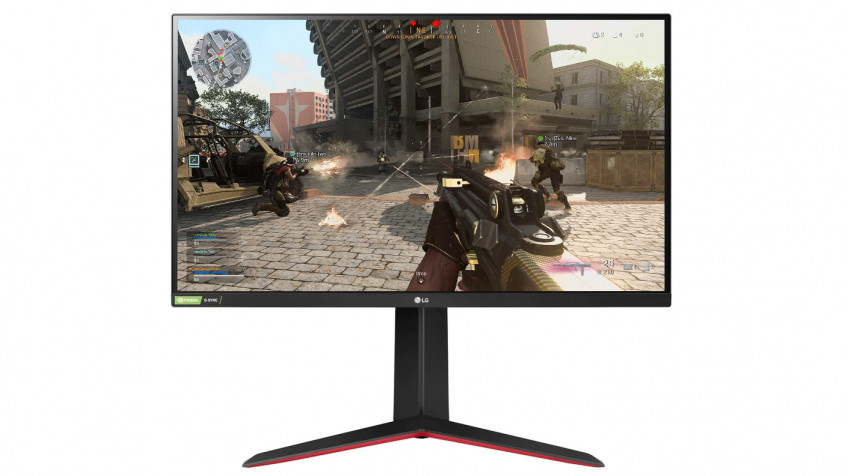 Summarize.
Unfortunately, we did not get an ideal monitor at QHD and 144 Hz.
Two aspects prevent it from calling it such: a strong Glow effect, which is visible on any dark background, and a low contrast.
In contrast, however, we have 10 bits of color, excellent performance after calibration, and a really very fast IPS with almost no ghosting.
And, of course, the appearance: taste, but we like the design.
Specifications LG 27GN850
Diagonal:
27 inch
Type of matrix:
Nano IPS
resolution:
2560x1440
Frequency sweep:
144 Hz
Brightness:
350 cd / m
2
claimed response time:
1 ms (GtG)
Ports:
2x HDMI 2.0, DisplayPort 1.4
Power:
external, 19, 3, 42 А
Additionally:
support for AMD FreeSync Premium, G-Sync Compatible
Dimensions:
64.4x29.1x46.6-57.6 cm
Weight:
6.4 kg