Smartphones and tablets have long become full-fledged gaming devices, and their performance surpasses some PCs, which until recently were considered quite gamers.
It is not surprising that new games and hits of past years are actively transferred to portable gadgets.
So there is something to play on touch screens, even for those who dislike purely mobile entertainment: if you look a little, you can easily find even the unofficial ports of
Fallout 2
and
Half-Life
.
Actually, the problem is not to
find
, but to
choose
from a huge assortment of items found.
Well, we will help you with this!
By the way, all the games in the collection are available on both
iOS
and
Android
.
XCOM: Enemy Within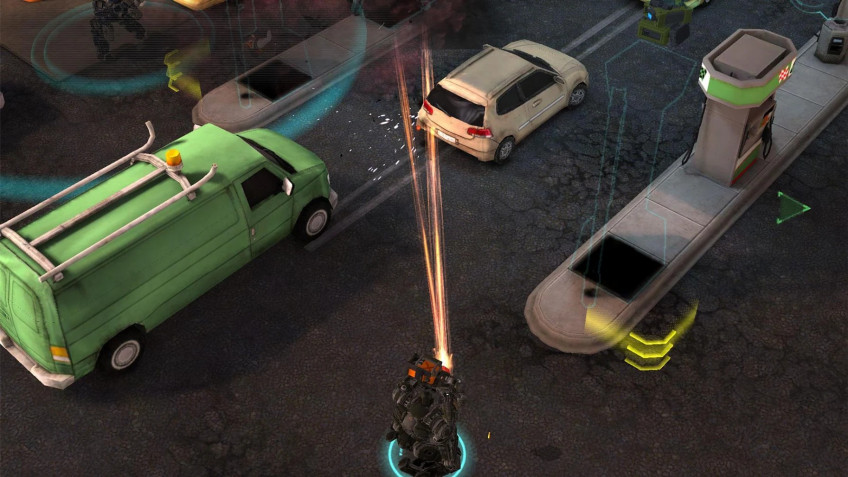 The relaunched
XCOM has
effectively shaped the turn-based tactics genre as it stands today.
Almost every second modern TBS owes its combat system to the creation of
Firaxis Games
- it is so laconic, witty, and flexible.
One of the main achievements of Enemy Unknown has become scalability: the gameplay perfectly adapted even for a mouse, at least for a gamepad, at least for a touchscreen.
After the game was released on all current platforms, including
PS Vita
, it also could not pass by mobile.
And then there was an expanded and expanded edition of
Enemy Within
.
Yes, the graphics were slightly cut, and the interface was once again shoveled for greater convenience.
However, at heart, it is still the same total war with aliens: complex and unpredictable.
In addition, none of the original content was harmed.
With
XCOM 2
, however, the picture is not so rosy yet: the port is crooked, scary, and available only on iOS.
But all the content and all game mechanics are in place.
However, the first game will most likely be enough for you for long hours.
Grand Theft Auto: San Andreas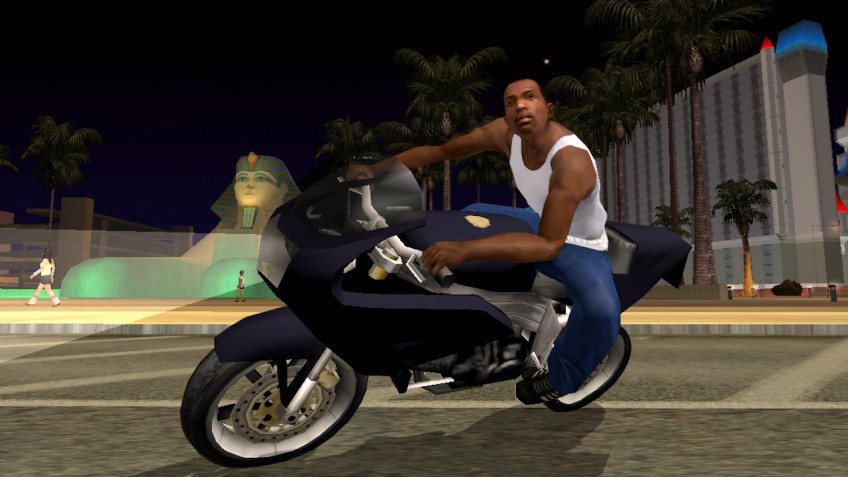 It is unlikely that among those who read this text, there is at least one person who has never played
San Andreas
.
It makes no sense to describe it in detail: it was a huge and varied action game with a well-developed open world, tons of game possibilities, and gorgeous music.
A real opus magnum
Rockstar Games
.
Yes, after the release of
GTA V,
it is unlikely that many will want to play San Andreas on PC or consoles.
But on mobile devices, the adventures of Carl "C-Jay" Johnson still feel great and have practically no competitors.
Moreover, the port is made very well: even the controls are not too annoying (especially if you play with a gamepad).
Moreover, in this version, the picture was tightened, new cars, weapons, and other content were added, and the storyline was also expanded.
So it is worth going through the mobile San Andreas even for those who have studied the original up and down.
Well, if this is not enough for you, then keep in mind:
GTA III
,
Vice City,
and
Bully: Anniversary Edition are
also available on smartphones.
Star Wars: Knights of the Old Republic 2: The Sith Lords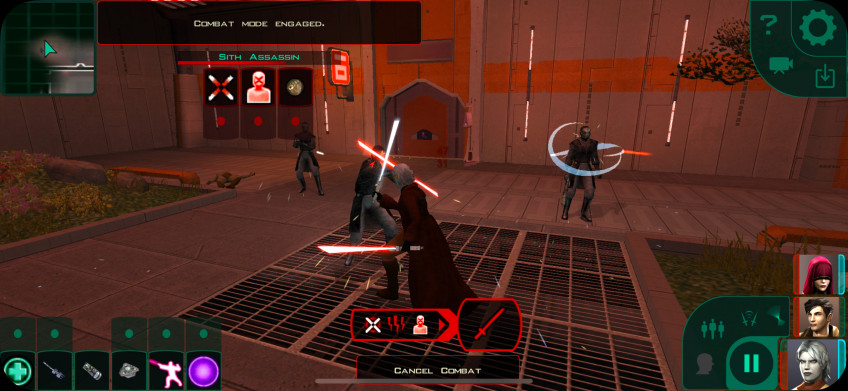 Role-playing games are going through hard times today.
Seems to be the loudest RPG release of this year - a re-release of
Mass Effect, which has
been replayed a hundred times
.
Yeah, the same one, which already in 2007 everyone managed to walk for undermining genre foundations.
So wouldn't it be better to go back to the days when the water was wetter and RPGs were more role-playing?
The most suitable time machine is the
Knights of the Old Republic
dilogy
, one of the best
Star Wars
games
ever
.
The competition in this field, as you know, is very tough, but the games were lucky to come out at a time when
BioWare had
not yet had time to waste itself on some vague crafts and was on horseback.
The port of the first part turned out to be so-so, but on
The Sith Lords, they
worked properly.
The only thing she lacks is a fan patch that returns the cut content. The golden
age of the Jedi, golden age of RPG - what else do you need for a pleasant evening?
By the way, KotOR is far from the only examples of the role-playing
DnD classics
on mobile platforms.
Baldur's Gate
Dilogy
,
Icewind Dale
,
Planescape: Torment
- there are plenty to choose from.
Atom RPG
And in continuation of the theme of the
RPG
genre going through hard times: as long as there are games like
Atom RPG
, it will definitely not die.
Several years ago, domestic developers finally fulfilled the old dream of the Russian gamedev and created "our answer to Fallout."
Moreover, we are talking here mainly about the legendary second part and its rare synergy of a harsh post-nuclear future, incredible player freedom, and crazy dark humor.
All this is enough in Atom RPG, only the place of the retrofuturistic USA here was taken by the native perestroika USSR, where caravans on ZIL roam the radioactive wastelands, the remnants of the party elite continue to build a bright communist tomorrow, and stalkers around the fire tell tales about abandoned pioneer camps inhabited by mutants.
The sum is a hot homage to the classics, albeit in a fresh setting.
The old school is felt here in everything: in the fierce hardcore turn-based battles, and in lengthy dialogues, and in the fact that no one is going to chew on the rules of this inhospitable world and drag us by the hand along a non-linear plot.
The leisurely gameplay is perfect for mobile platforms, all the content from the older version is in place, and the
Atom Team
regularly updates and improves its brainchild.
In general, if you have a couple hundred free hours, then there is no reason to miss the mobile Atom RPG.
Slay the spire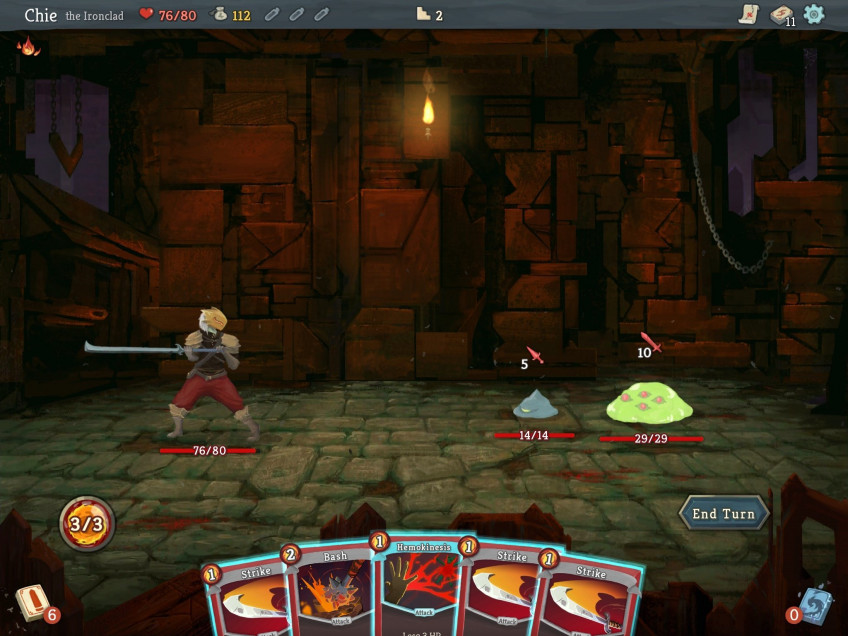 Slay the Spire
is a living example of a project that is much easier to love than to explain.
If you do not go into the details of the mechanics, then this is a hybrid of a collectible card game and a roguelike.
The abundance of cards, monsters, bosses, and artifacts gives solid replayability, and if you consider that the heroes here are not just dissimilar, but require a radically different approach, then you can really hang out in this seemingly small adventure for a long time.
And you shouldn't forget the brutal complexity either: no less depends on luck in Slay the Spire than on a properly selected deck.
Fortunately, after each defeat, a competent balance makes you try again, and not give up everything out of anger.
Nothing was cut in the port, and the stylish minimalistic picture remained the same as on PC and consoles.
Except that the interface does not always do what you expect from it, but this is a minor inconvenience to which it is easy to close your eyes.
This war of mine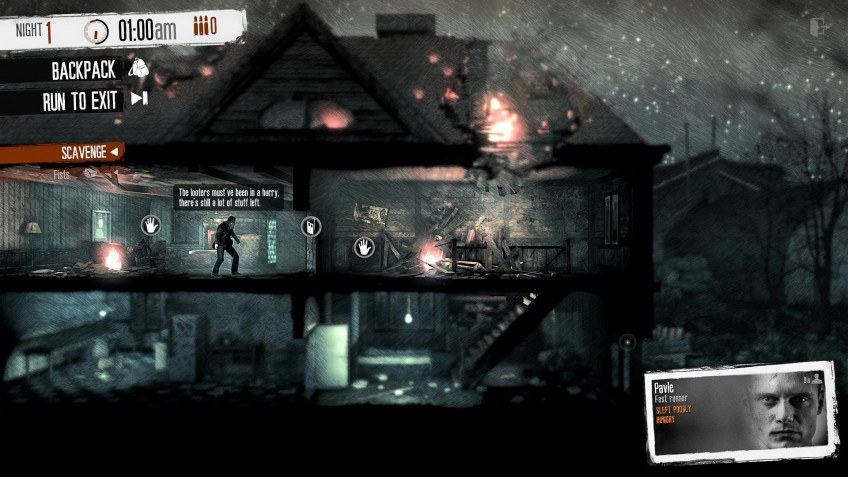 Perhaps
This War of Mine
is one of the most mature games in history.
And one of the most difficult, too: in a moral sense, and not in terms of dexterity.
The fact is that this is a simulator for the survival of civilians in a city during a war, and the simulator is terribly realistic.
We are constantly being forced upon the moral "Morton forks" - dilemmas in which all options are bad.
Take away the last medicines from a couple of unfamiliar old people or risk the life of your ward?
Who should I give the only ration: mother or child?
Shoot a stranger first or try to make friends?
The answers to these questions form a frighteningly three-dimensional picture of the local doomsday, where there is no happy ending or winners.
But there is hunger, cold, and a handful of unfortunate survivors, who are separated from death only by chance and the player's decisions.
The mobile version is not inferior to the versions for "large" platforms in terms of graphics, capabilities, and atmosphere - so welcome to hell.
Limbo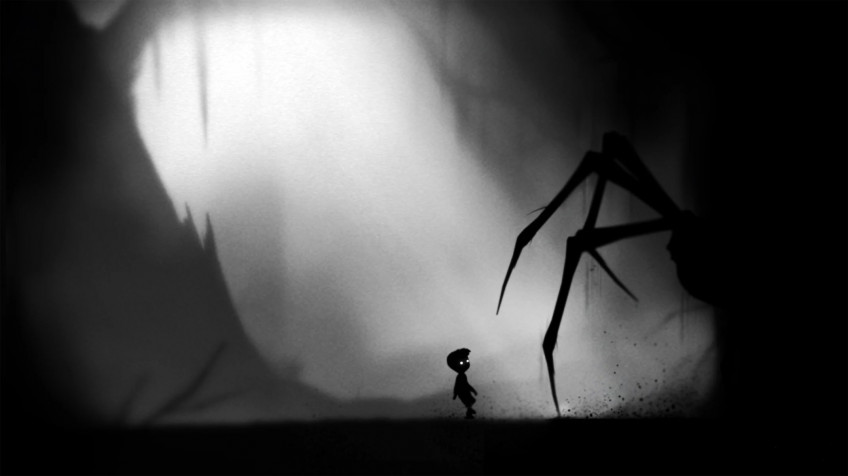 Limbo
became one of the best games of 2010
Is a slightly psychedelic and extremely morose horror platformer.
It's a rare combination, but it works great nonetheless: The nameless boy's journey through the black-and-white world of violence and brutality is surprisingly deep.
In search of his missing sister, the boy will fall into a trap more than once or twice, die in the clutches of a giant spider, fall into the abyss, or die in some other way.
We guarantee that there will be no deaths - at least for the first time - because the game can only be completed by trial and error.
However, the death toll is very small, the respawn points are generously placed so that they instantly begin to be perceived as a central element of the game mechanics.
As a result, a very laconic and albeit not very scary, but extremely atmospheric adventure comes out.
And if you like Limbo, then be sure to try
Inside
from the same studio.
What
Playdead is
sure to do best is creating powerful horror games with children in the lead roles.
The walking dead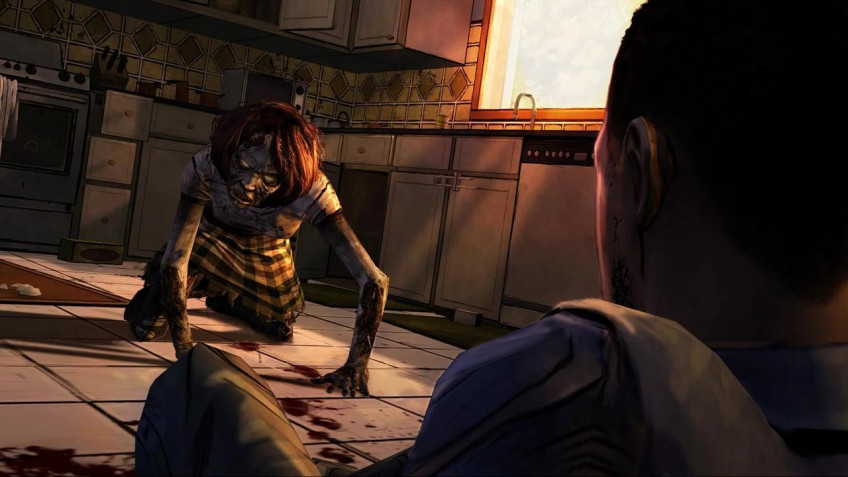 For what critics did not scold
Telltale Games
!
And their nonlinearity is too linear, and the picture is outdated, and the stylization for comics is mediocre, and the gameplay is elementary, and the plots are naive ... But all this did not interfere with the success of
The Walking Dead
,
The Wolf Among Us,
and
Tales from the Borderlands
among the players.
It was these modest independent "game serials" that made the episodic format mainstream (no matter how we feel about it).
And they also competed on equal terms with the large and expensive interactive cinema of David Cage - and this with completely incomparable budgets and production times.
In fact, the stories are no worse here than in most current TV shows, the "choice - consequences" mechanic still works great, and the slightly outdated graphics of smartphones can definitely be forgiven.
A great way to brighten up the waiting for
The Wolf Among Us 2
.
The witness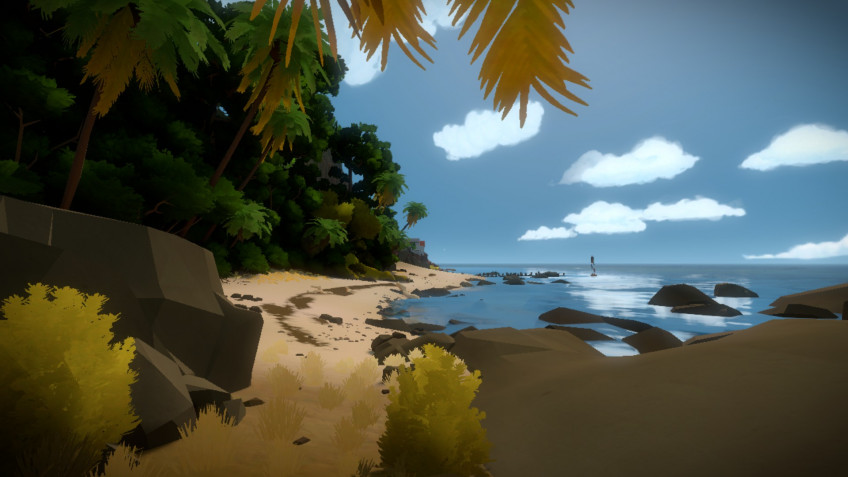 Jonathan Blow is a game designer with a very unusual artistic taste, whose handwriting cannot be confused with anyone else's.
His
The Witness
is a very light, meditative, and calm 3D puzzle game.
There is no action, no drama, and, one might say, no plot either.
We just wander around the compact but cute open world, study empty buildings, examine mysterious devices, listen to audio recordings and solve mazes.
Actually, it is on these very labyrinths that the main gameplay is tied, the rest of the game is just a walk from one puzzle to another.
There are several hundred tasks here, but, firstly, not all of them are required, and secondly, they are never repeated.
We are regularly given new conditions and tricks, so you will definitely not get bored on the mysterious green island.
Fans of philosophical first-person puzzles should also try
The Talos Principle
- it is also available on mobile.
ROME: Total War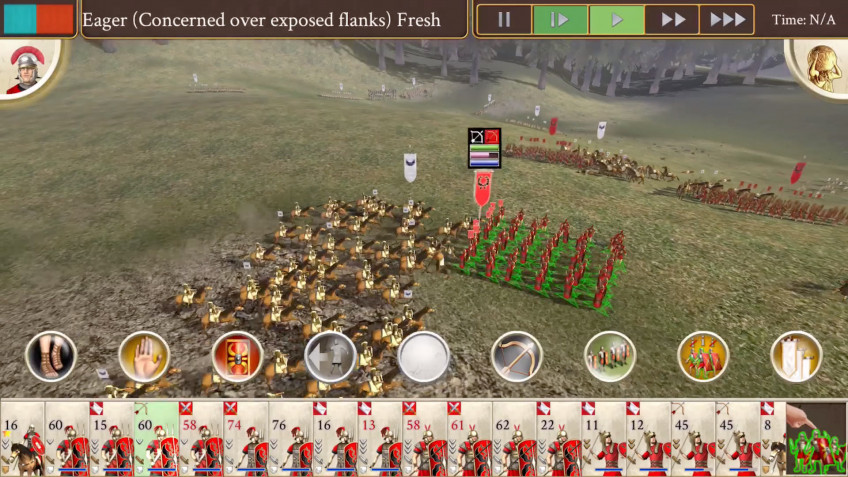 It would seem that mobile platforms are completely unsuitable for RTS.
Actually, as a rule, it is.
However, there are exceptions to any rule, and the
ROME: Total War
port
is one of them.
The hit 4X strategy game feels great in a pocket-sized format and offers a mature experience of running the Roman Empire.
This is due to two main points.
First, the user-friendly and neat interface is well adapted to touch controls and small screens.
Secondly, truly jewelry optimization allows you to steer huge armies even on budget devices.
In general, if you do not pay attention to the not the most modern picture (and it is still not very well visible on the smartphone), then since 2004 the game has not aged at all.
Timeless classics.
Of course, it is impossible to squeeze all noteworthy ports into the top 10 formats: there are really a lot of them, and the choice of the best is a purely subjective question.
Therefore, do not be discouraged if your favorite games are not included in this material.
Better tell them in the comments!